The Eleventh Annual Henry Reed Memorial Fiddlers Convention was held in Glen Lyn, VA on June 14-15, 2013. This festival honors the life and music of local old-time fiddler Henry Reed and is proud to have grown into it's eleventh year! The Henry Reed Memorial Fiddlers Convention is an official Crooked Road Affiliated Festival.
Update: The list of winners has been added below! Thanks to all that participated.
Friday's activities will began at 5 PM. The Reed Family Band with Alan Jabbour will kick things off and then they'll be 2 sets from both featured bands: the Jugbusters and Hans Creek String Band. Individual and band competitions will be held on Saturday. Alan Jabbour will offer a 2-day fiddle workshop from 10-12 on Friday and Saturday morning. The details for this year's festival are currently being worked out, and will be added as they become available.
WNRV will be on-site to broadcast hours of great live music from the festival on both days.
More information on the festival is available at the Henry Reed Convention Facebook page. Contact us if you have any questions about the festival.
WNRV will partner with the Henry Reed festival again in 2013 to offer a special combined advertising deal. New WNRV customers that take a full-page advertisement in the official Henry Reed festival booklet will receive a discount rate for their WNRV advertising. Contact WNRV to get details on how we can help you promote your group or business while supporting the local community.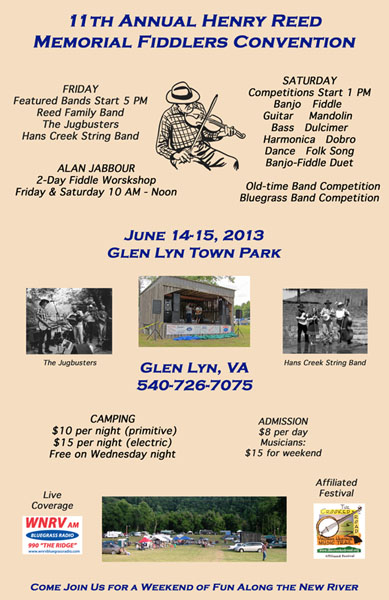 Congratulations to all the 2013 Winners!
Old-Time Fiddle
1. Bill Blevins
2. Stuart Light
3. Carl Baron
4. Ron Mullennex
5. Jim Costa
Old-Time Banjo
1. Ron Mullennex
2. Jim Costa
3. Jeff Norman
4. Teri Hayes
5. Chip Arnold
Old-Time Guitar
1. Clay Ferguson
Mandolin*
1. Nick Goad
2. Clay Ferguson
3. Eric Root
Banjo-Fiddle Duet
1. Bill Blevins/Tina Liza Jones
2. Carl Baron/Kate Somerville
3. Lieselotte Heil/Teri Hayes
4. Paul Herling/Ginger Wagner
5. Martila Shirley
Bluegrass Banjo
1. Barry Collins
2. Tim York
3. Bill Moran
Bluegrass Guitar
1. Brandon Hilton
2. Tyler Jones
3. Tim Thorton
Bluegrass Fiddle
1. Rebekah Bolt
2. Stuart Light
3. Paul Herling
Folk Song
1. Harold Maurer
2. Pat Willis
3. Tim Thornton
4. Phil Bevins
5. Jason Harris
Bass
1. Clay Ferguson
2. BJ Compton
3. Keith Thomas
Autoharp
1. Dianne Huffman
Harmonica
1. Eddie Ogle
Dance*
1. Cherie Compton
2. Judy Atkinson
3. CJ Ferguson
4. Sierra Hilton
5. Matthew Thornton
Dulcimer
1. Alan Freeman
2. Tim Thornton
3. Matt Peyton
4. Sue Santamaria
Youth
1. Joe Bevins
2. Samuel Mikhail
3. Lukus Reed
4. Christopher Maynard
Bluegrass Band
1. Gold Rush
2. Jason Harris Band
Old-time Band
1. Katie & the Pole Dancers
2. Blue Floyd
3. Indian Run String Band
4. Allegheny Hellbenders & Friends
5. Tower Street String Band
* Old-time and bluegrass mandolin were combined this year, as were adult and youth dance
Here is information for the Eighth, Ninth, and Tenth Annual Henry Reed Memorial Fiddlers Convention. The T-shirts and program booklets from these years are still available for purchase. Let us know if you are interested in getting these great souvenirs from previous years. Get yours while there are still some left!